Michelle, Caitlin and I did the run through Comic-Con for Cress last year. Macmillan was only giving away 20 arcs and our speediness ensured that we were the first 3 at the booth. So of course, when I saw that Marissa was going to be in San Diego for Cress, I was going.
Hubs and I met Michelle at the downtown library around 5:30. Beverly was able to make it so we all hung out until they unlocked the auditorium. And the auditorium? It was huge and sort of fancy.
Marissa got to the library a bit early and then they got started just after 6:30. She gave the synopsis of Cinder, Scarlet, and Cress.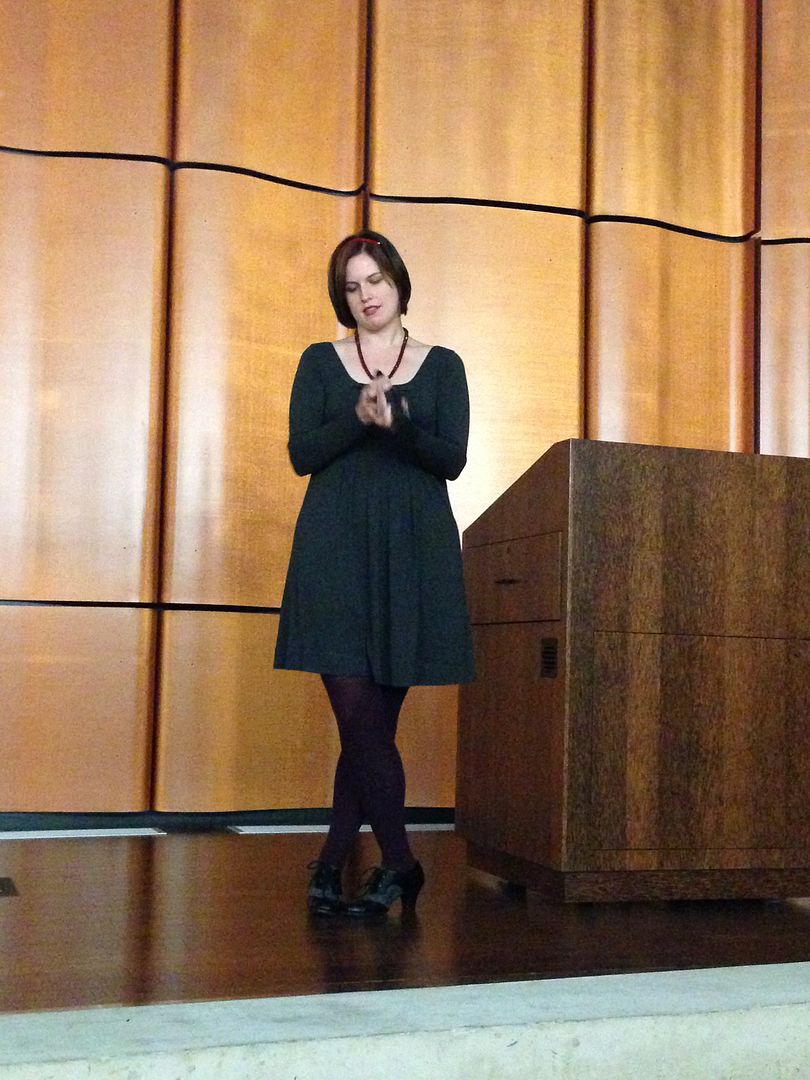 As she started to talk about how she wanted to be a writer, she stopped to announce that there was someone dressed up as Cinder.
She was the kid in the back of the room who talked to herself. She wanted to be in her pjs all day. She was always scattered about writing, she'd write a short story here or a poem there. And then she fell in love with Sailor Moon. She would write stories about them — not knowing it was fanfiction.
As soon as she found the awesome community, she began sharing her stories. She didn't want anyone to even know that she wanted to be a writer. When she was 22 or so, she looked into entering a writing contest and the rules were that you had to incorporate 2 of the 10 prompts. She wanted to do a fairy tale and set it in the future.
She was really excited about it and had a lot of fun writing it. A few weeks after she submitted it, she found out that her story was 1 of 2 stories that were submitted. She had so much fun writing, she would brainstorm about the fairy tales she could work with.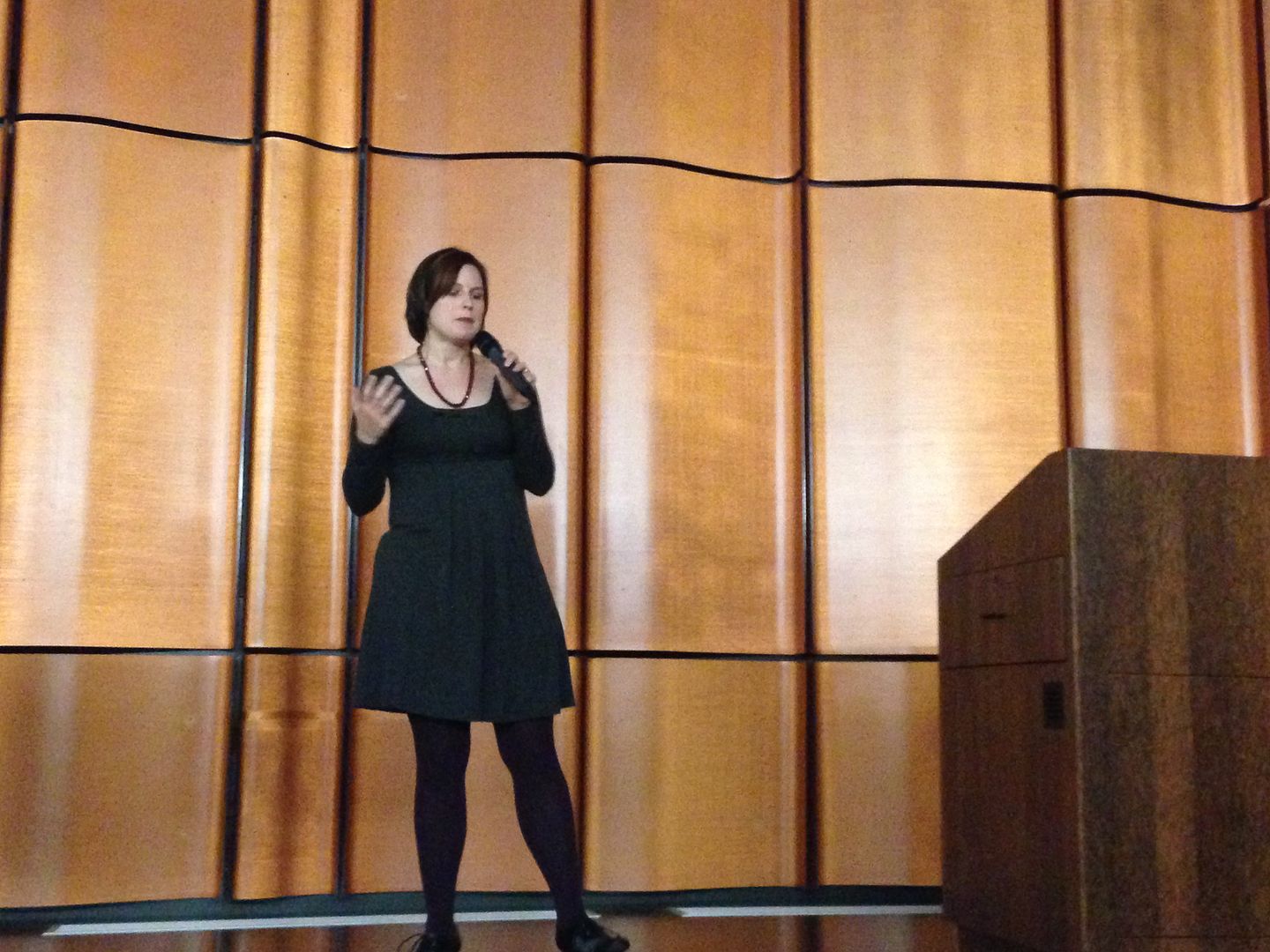 She was having a dream about Cinderella running away from the ball and instead of losing the glass slipper, she lost her entire foot. Having the cyborg Cinderella was the missing piece to the brainstorming that she already had.
All of that had taken part in August of 2008 and planned to write it in NaNoWriMo. And then she learned about another writing contest. The winner of the contest would win a walk on role on Star Trek.
She worked hard on getting all of the information to prepare for writing. She made character profiles and inspiration photos. She decided to win that instead of 50k words, she needed 150k words. While working full time and taking 2 classes towards a masters degree. She uploaded the document and found that she had 150,011 words. It turned out being the first draft of Cinder, Scarlet and about 1/3 of Cress.
When going back to read it, she found that it was a huge disaster. Characters disappeared halfway through, some changed gender and plot pieces went nowhere. She worked on it and submitted it to a literary agent, eventually getting her contract on November 1, 2010. But she didn't win the walk on role.
She then decided to tell us the original fairy tale for Rapunzel. I will not even try to type this here. Google it. :)  After the story, she opened it up to audience Q&A.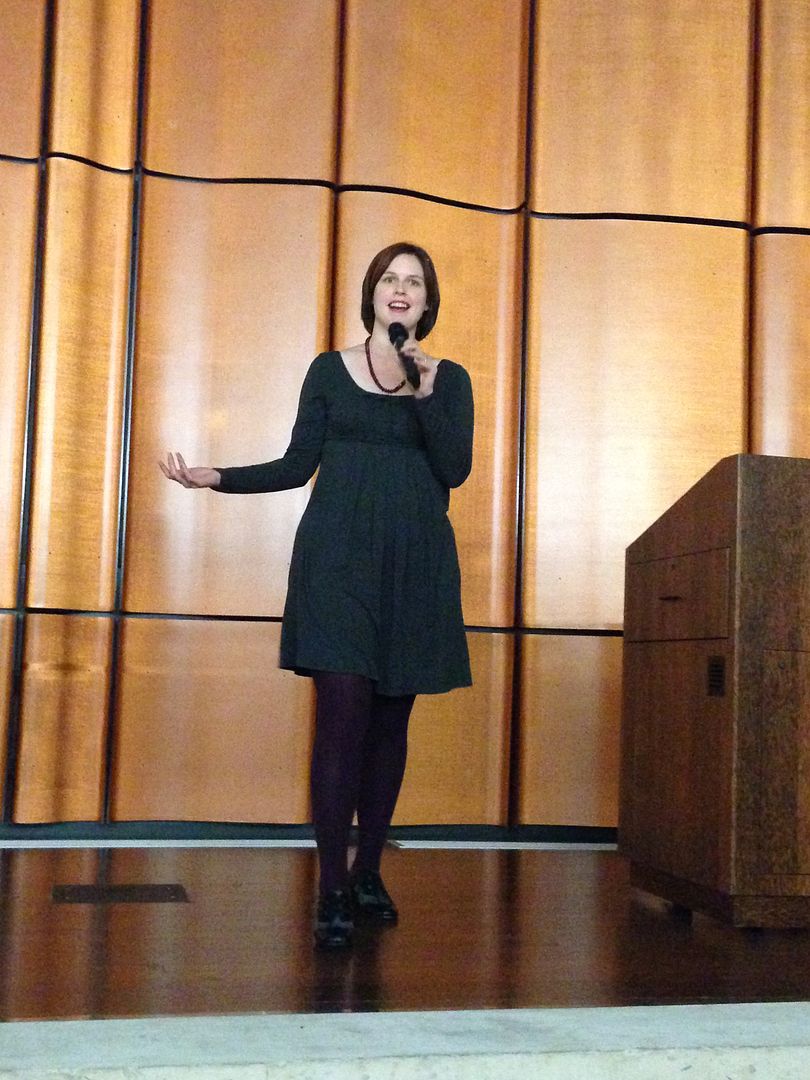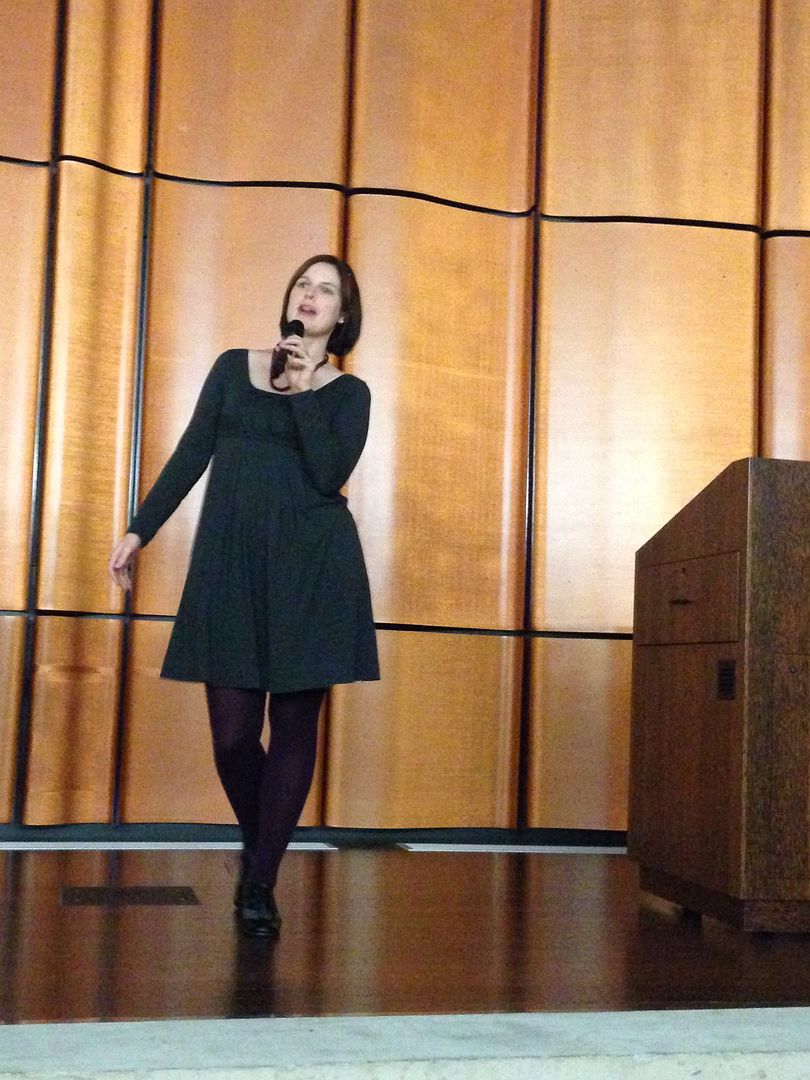 What's the craziest or craziest thing a fan has done for you?
The craziest thing is when people shake while taking photos. I don't get it. I'm a nice person. The coolest thing was while I was at a speed dating event and the second person who came up looked at my name tag and then at me. Then my name tag again. And then she sort of lunged over the table and hugged me.
What technique do you use while writing after the outline? Do you start at the beginning?
It varies. During Cinder and Scarlet, it was linear. During Cress and now Winter, I work on the subplots because there's just so much. Sometimes I feel like I don't have it in me to write action, so I'll go to a romance scene.
As you said during the fairy tale, the old stories have meandering princes. Is that the inspiration for Kai?
Not necessarily. His passiveness is due to the fact that he doesn't really have a say in anything. I have the most sympathy for him because he is stuck dealing with the queen and can't go out to have adventures like everyone else.
How much do you write a day?
Depends on where I'm at. During a regular writing day, I can work for  6-10 hours. Right now, since Cress was just released, I've been working on promo stuff and now going on tour for three weeks, so there's not a lot of time to write. If I'm working on revisions, it's much harder, so I only work 3 hours at a time.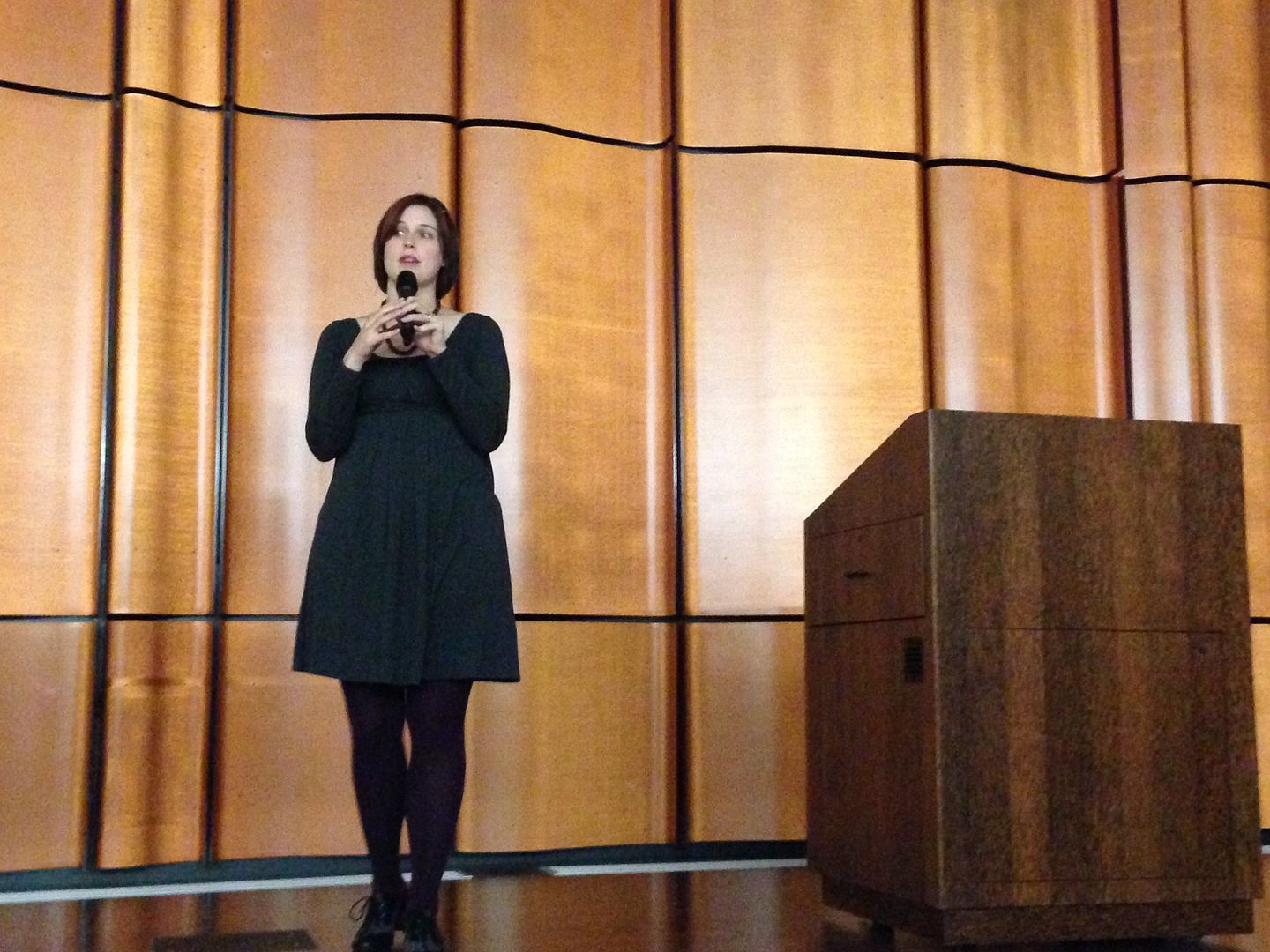 Do you let the story develop the character?
For some of them, I have an idea. For some of them, the character will tell me that's not how they want to be. Iko is one of those characters. I had planned on her being very computerized and in the first chapter she was like, "I want to wear a dress and dance at the ball and the Prince is cute."  I let her go because I thought she was a cool character.
What character can you most relate to?
Cress. And not because I'm a computer hacker, I wish. But I'm a daydreamer and I always try to see the best in everyone.
What author influenced you the most?
I don't think I have just one. I was a huge reader and LoTR was the first book I read that was in a different world. The Giver by Lois Lowry was amazing. There's one sentence that was so huge and as an aspiring writer it was huge to see that something so small could change the reader.
Have you ever had writers block and what do you do?
I've never said that I've had writers block. I think it's psychological and if you say you you're blocked than surprise, you're blocked. Of course there's bad writing days. I'll start brainstorming or making lists or asking what ifs. I will also make my goals really easy like "I will write one sentence". If I get to that sentence and it was hard, then I know it's time to step away.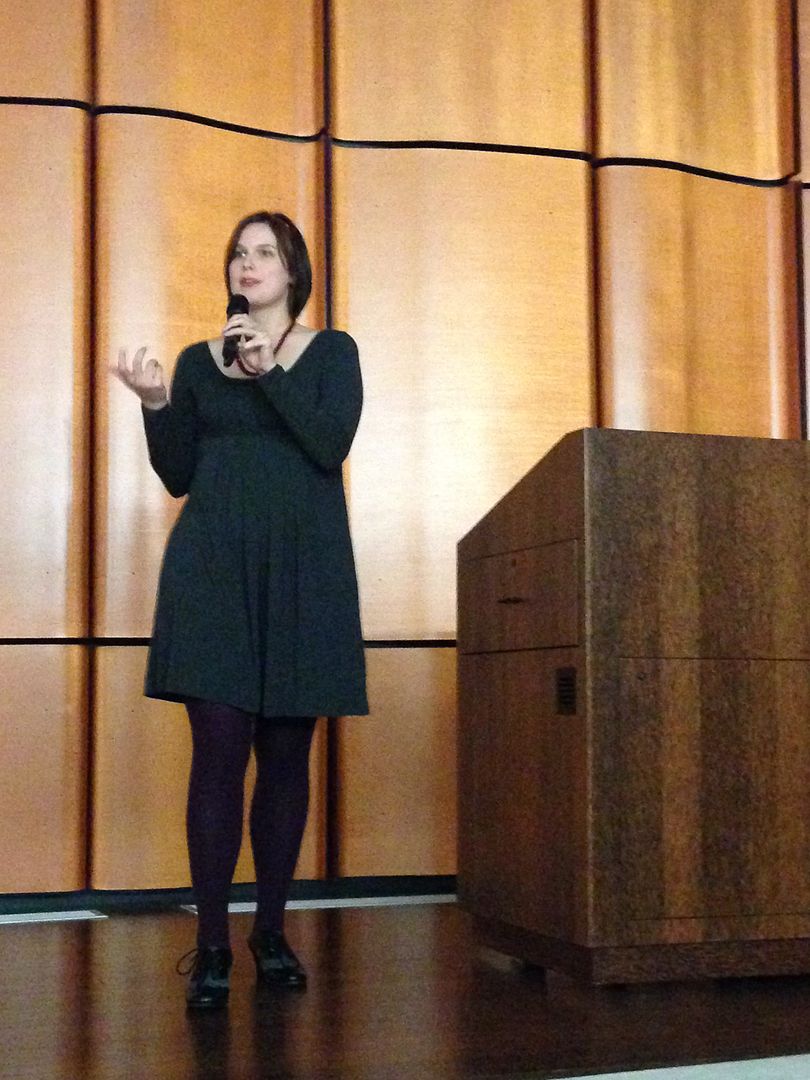 Were there any scenes in Winter that were hard for you?
It'll probably kill me. I'm working on the third draft and there's only about 5 chapters left to go through and it's so close and so far. But I've had these scenes in my head for over 5 years so I'm really excited to finally share those.
Will they be movies?
The rights have been sold to a Hollywood studio. There is a script and they are trying to attach a director. I'm most excited for the idea of action figures.
There's going to be an Alice in wonderland book?
Yes. The next book I'll be working on will be a stand alone book that is a prequel for Alice in Wonderland that focuses on the Queen of Hearts.
After that, they did a raffle for some books and a VIP prize pack and then the signing started.  It was the first signing the library ever had and I think they needed to adjust how things were done.  There is a tiny little lobby and that is where they had us all line up.  There was one line for buying the books and then a line to have them signed.  Thankfully, Hubs was able to get right in the front and we were some of the first people to Marissa.
I got the arcs that Jaime and Erin sent to me signed first while Michelle was getting books. And then went back to get my book signed.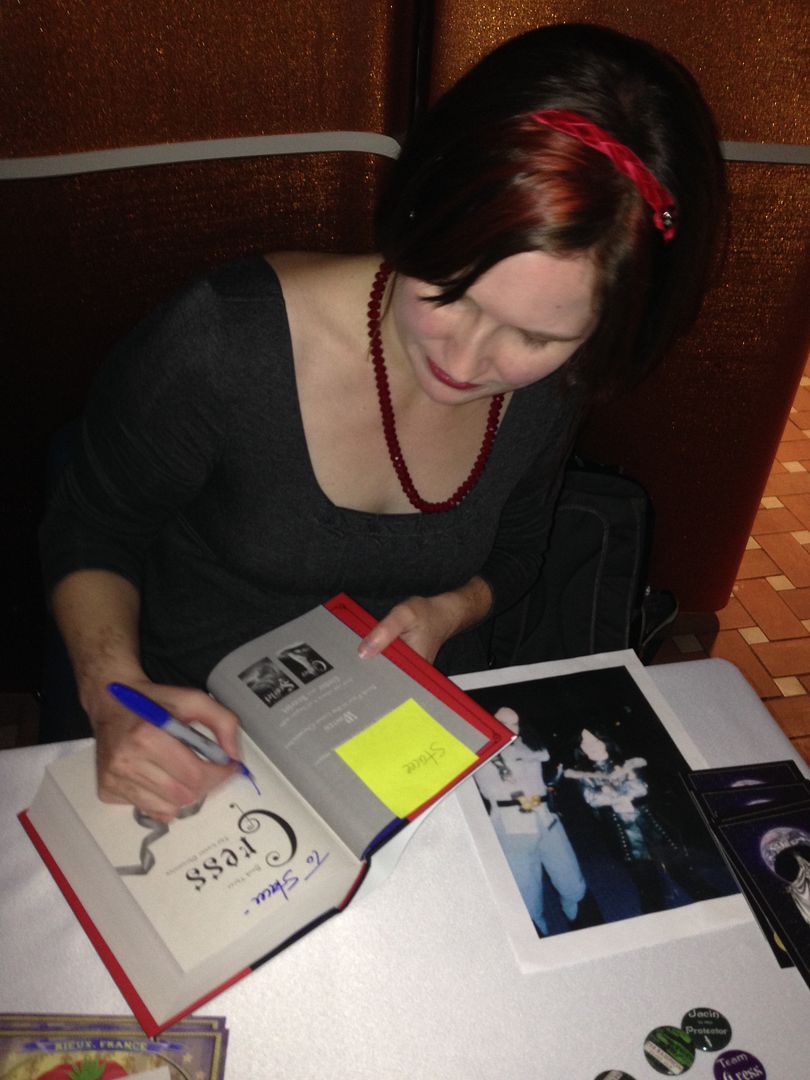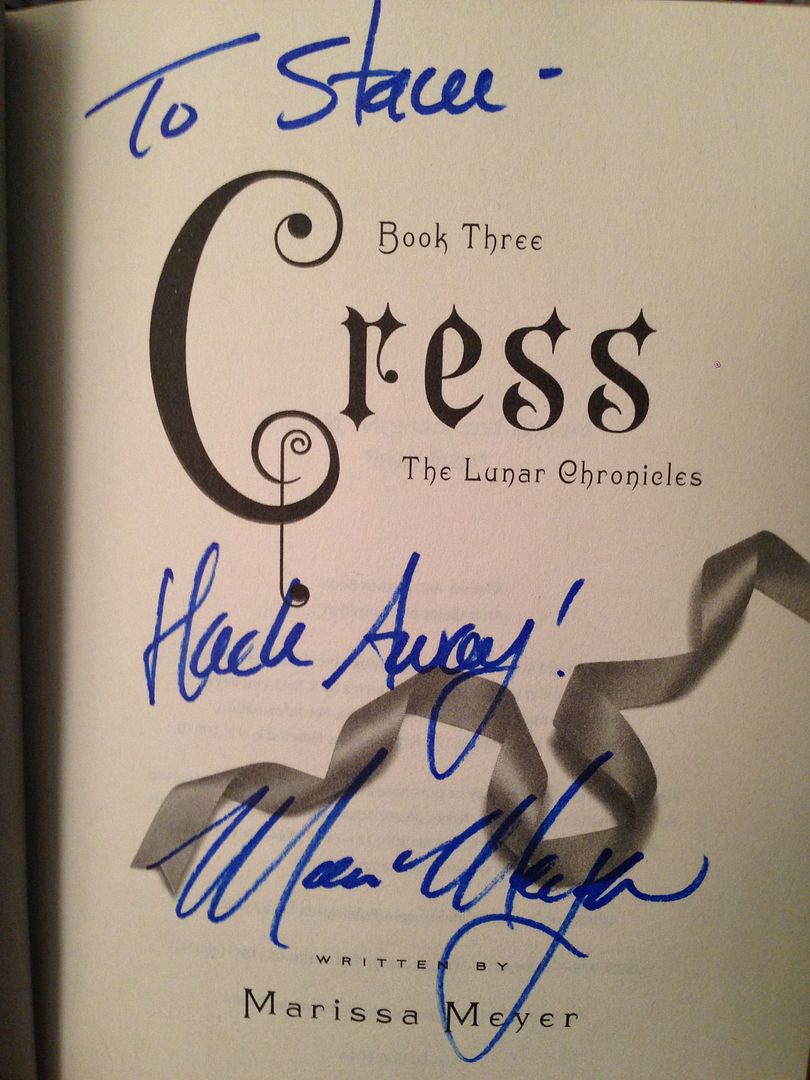 We quickly went through the line, said goodbye to Beverly and then headed home.  Marissa Meyer was delightful as always and the library was gorgeous.  Hopefully, they'll organize a bit differently, but it will definitely be a venue I go to again.